Offering PDF customization to your customers has never been so easy
*No Credit-card Required!
CraftMyPDF's whitelabel solution offers an easy-to-use PDF template editor and allows your customers to customize PDF templates and create pixel-perfect PDF documents.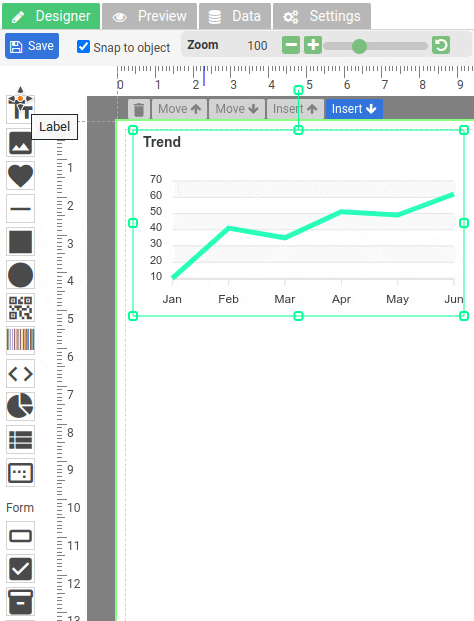 Drag and drop – Our advanced editor allows you to easily create new PDFs by dragging and dropping the elements into your PDF templates.
Support of expressions –  An expression is any valid set of variables, operators, and expressions that evaluates to a single value. 
Support advanced formatting – Our template editor supports advanced formatting.  You can easily format number, currency and date time with CraftMyPDF's expressions.
Quality fonts at your disposal – We have hundreds of quality fonts at your fingertips.
Fast preview of the layout – Our blazingly fast Quick Preview allows you to instantly preview the PDF in HTML and customize JSON data.
Quick and easy integration with our PDF template editor
Our whitelabel solution is cost-effective and seamless PDF generation gives your users more liberty to manage their documents while also reducing your development costs.
Step 1. Create a base template
Create a base template that will be used for all your customers. Next, you can make use of our API to clone the base template for your customers.
Step 2. IFrame integration and page customization
Use our API to create an editor-session. An editor-session is an unique URL for you to embed the PDF template editor in a iframe. An editor-session allow you to customize the PDF template editor to hide or show certain functionaries to your needs.
Finally, share your the custom page with your customers and let them to edit the PDF template.
Step 3. PDF generation with PDF editor or API
Make use of our PDF generation API to generate PDF reports or documents.
Optionally, you can allow your customers to generate PDF documents right in our PDF template editor.
*No Credit-card Required!